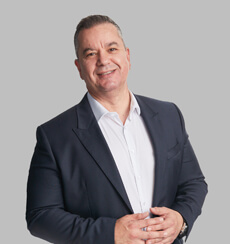 Terry Portelli
Managing Director
Terry has been a leading figure in the Australian property industry for over 30 years. His impressive career has focused on acquisitions, marketing, sales and construction for residential land and built form developments. His passion is marketing residential communities which people want to call home.
Following successful tenures in key management positions at Metricon and Oliver Hume Corporation, Terry who is a licensed Real Estate Agent, established red23 to provide residential property developers with a tailored marketing and sales service.
He leads the business with strategic direction and challenges his team to develop new ways of providing service excellence and success for Developers. He also has established business relationships with Melbourne and Regional Victoria's top volume builders.
Terry has formed an experienced management team specialising in research, acquisitions, marketing and sales across both land communities and built form developments. In the past 12 months Terry has overseen $850 million worth of end value products across Victoria and Queensland.
Terry is proud that red23's success has been built on long lasting relationships with Developer Partners, local community building, strong builder relationships and a reputation for delivering returns on investment.
For a no obligation discussion regarding your current or future development sales and marketing requirements, contact Terry on 03 9540 0477.