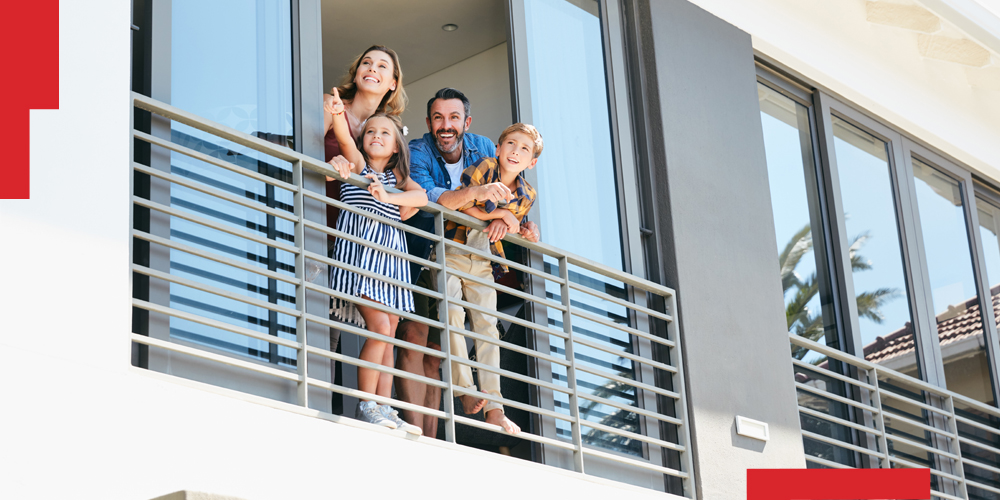 Why medium density is on the rise
In a challenging market, small townhouses offer big benefits for both developers and buyers.
Over the past 12 to 18 months, changes in the Australian housing market have been more rapid and evident especially when it comes to medium density developments. As interest rates rise and local governments push densification in the growth corridors, savvy property developers are prioritising compact townhouses as a means to meet buyer demand and maximise profit.
This trend is set to continue with medium density housing tipped to be the fastest growing segment of the market for the next five years. While some might ponder the loss of the great Australian dream – a large home with a rolling backyard – innovative designs are helping first-time buyers get a foot in the market and downsizers achieve a low-maintenance lifestyle.
We spoke to three residential property development experts about the current and future medium density market:
Bernard Eid, Director at Red23, a property development sales and marketing specialist.
Alex Gibson, General Manager of Development at SOHO Living, a Melbourne home builder and property developer, and
Khurram Saeed, co-founder and Director at Resi Ventures, a Melbourne residential property developer.
Here's what they had to say.
Medium density has evolved from an afterthought to a key priority for property developers
Over recent years, Bernard has seen a notable change in the way developers approach medium density developments. What used to be an afterthought is now a key priority for his clients, "Developers used to focus on a low lot per hectare then once they got to the end of a project and all the infrastructure had gone up, they would look at cutting up the land that was left. They're no longer doing that. Now, developers are thinking about medium density at the start of the project. They're partnering with builders to develop the housing product they want for that precinct and then building the land and the roads around it. Developers are seeing the value in delivering medium density themselves instead of selling the land as super lots and leaving the townhouses to someone else."
Bernard's views are echoed by Khurram at Resi Ventures who works closely with builders at the start of a project to plan their medium density offering. "When we do our vision boarding for new estates, we sit down with the builders to see what sort of product they're bringing out because you've got to work hand in glove with the builders to produce a townhouse that's not only affordable but liveable. The onus is on us as developers to carve up the land to make sure we're producing lots that the target market can purchase," says Khurram.
Alex From SOHO Living agrees that collaboration between the builder and developer is key in ensuring medium density developments are thoughtfully designed moving forward. "Strong partnerships with developers and builders to carefully design and masterplan key pockets of medium density pods will ensure that the days of 'slapping together a run of townies' will come to an end. How the architecture interfaces with key street frontages and the relationship with open space are key factors that developers are starting to push for in their estates which will set the new age of medium density development apart from the old."
Medium density projects are helping developers cater to the reduced budgets of prospective buyers
Affordability is a key driver in the demand for medium density products with units offering substantial savings for first-home buyers. In Mitchell, the average cost of a house and land package is $667,475 compared to $345,000 for a unit, while in Hume the average cost of a house and land package is $742,975 compared to $460,000 for a unit. With the buying capacity of a double income household estimated to have dropped from $800,000 to around $550,000 to $600,000, our experts agree that units are often the only affordable option for buyers.
"From an affordability point of view, it's getting harder and harder to buy house and land packages. In the growth suburbs, you're looking at $750,000 to $800,000 and people can't afford that. Even if interest rates do come down in 2024, I don't think we're going to see the 1.9 or 2.1 per cent interest rate. People will be paying around five per cent interest for a while yet," says Khurram.
Bernard says it's all about providing buyers with an option to suit their budget. "In the current market, you need to have a product that's affordable for the customers out there. If someone comes in and they can't afford the land or a house and land package, they can buy a townhouse. For first-time buyers, a roof over their head is better than sitting at home trying to save money and never catching up to what they need. They want to be a part of the market and our job is to help them."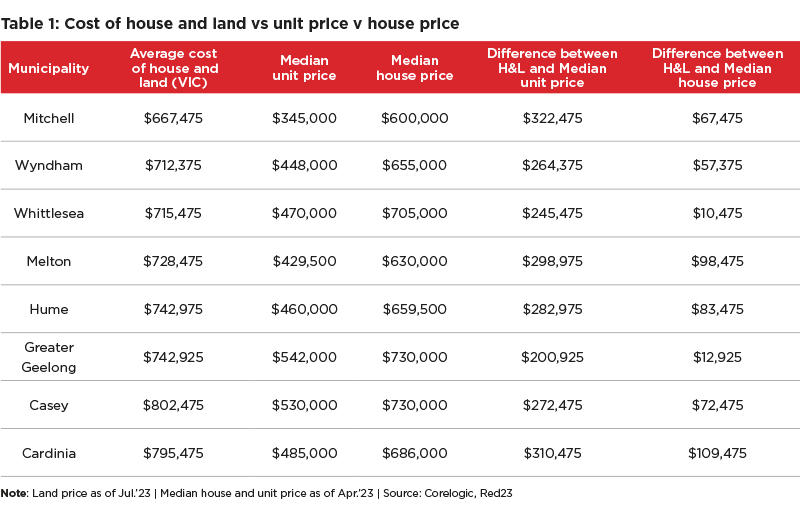 The push for densification in Victoria's growth corridors
Another factor driving an increase in medium density developments is the Victorian Planning Authority's Precinct Structure Plans (PSPs). Local governments are pushing densification in the growth areas, especially around future amenity driven corridors with new PSPs mandating higher densities than ever before.
"If you look at the PSPs that are coming out. The headline figure on medium density used to be that they want to get 15 to 16 lots to a hectare which made the average lot size 340sqm to 380sqm. With future PSPs, they're talking 20 to 22 lots per hectare so all of a sudden you're looking at average lots size of 260sqm to 280 sqm. Then on top of that, you'll have micro lots," says Khurram.
Less space doesn't mean less quality
Innovative design is raising the bar in medium density development. For Alex, it's all about strategising to deliver the best possible outcomes for the business and the buyer.
"Providing innovative responses like maximising accommodation on smaller lots to allow purchasers to continue to grow in their homes and eventually upsize is becoming key. Meeting the needs of purchasers in this ever-evolving environment is about managing build cost expectations versus internal amenities. Key considerations are always, how does the façade present? Does it provide enough individuality? What is the overall build cost? Does it meet my budget? Does the home meet my needs in terms of internal amenities and accommodation for my growing family or downsizing requirements? SOHO Living are at the forefront of addressing these questions. Having strong partnerships with agents like Red23 and developers across Melbourne allows us to strategise every release and ensure that we are meeting the needs of the market and the built form outcomes sought by the developers."
The rise of micro-lot housing
As the medium density market evolves, micro-lot housing is becoming increasingly popular – affordable and compact townhouses built on lots as small as 80sqm to 100sqm. Resi Ventures, an ongoing client of Red23, is looking to carve up two stages of its Monument Estate into micro lots of around 86sqm in an effort to offer an affordable product that also yields a profit.
Bernard says it's surprising what can be accomplished on a lot of that size, "On an 86sqm lot you can build a townhouse with two bedrooms and a garage downstairs with open-plan living plus a balcony upstairs. It comes down to clever design."
In the medium density market, one size (and design) doesn't fit all
While micro-lot housing gives first home buyers an option to enter the market, developers also need to cater to downsizers with a healthy budget as well as single-person households. A diverse offering ensures there's an option for all medium density buyers.
"You've got to offer diversity because second and third time buyers will be able to afford more. Not everyone wants to retire in a farming community, they'd prefer to stay in an area they've been in all their life but don't want a 700sqm to 800sqm lot," says Khurram.
Red23 has also noted demand for single-storey townhouses with premium finishes, "A lot of downsizers don't want to give up all the luxuries they had in their family home. They want a single-storey townhouse with all the premium finishes but without the maintenance required for a big block of land. There's still a market for that," says Bernard.
And it's not just retired couples. In analysing the data, Red23's research team is seeing an increase in lone-person households looking for compact single-storey townhouses with high specs – a market set to grow over the next 20 years. In Wyndham the percentage of lone-person households is set to increase by 115% from 2016 to 2036 while in Melton the increase is as high as 154%.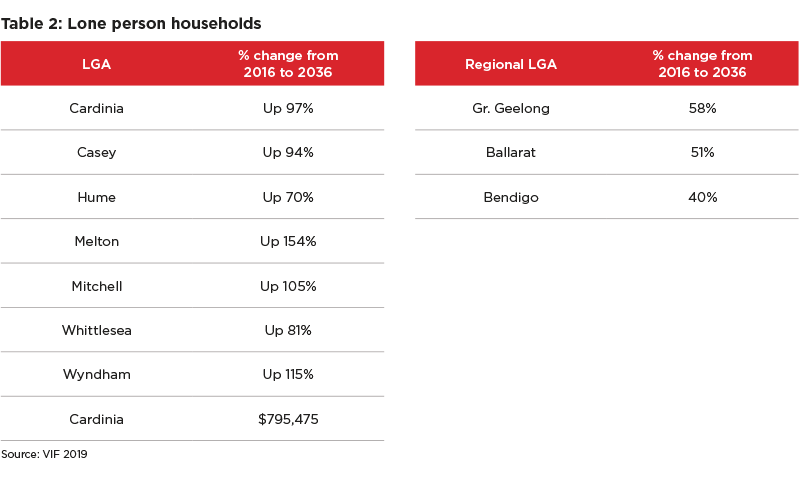 Final word
"We've got three live projects at the moment and the smaller blocks are the ones that are selling because that's what people can get finance on. And they're just going to get smaller and smaller." – Khurram Saeed, Resi Ventures
"With inflation peaking and buyer sentiment returning to the townhome market, green shoots are starting to appear. Medium density development is here to stay in a big way and innovation in this space will be a key focus for builders in the coming years" – Alex Gibson, SOHO Living
"In the current market, a medium density product offers a win-win. It means the developer can make a profit and the customer can get into the market." – Bernard Eid, Red23.
About Red23
Red23 specialises in sales and marketing for new land and townhouse communities across the easter seaboard of Australia. We specialise in custom and data-driven strategies that turn prospective buyers into proud owners and help build thriving communities.
Since opening in 2007, we've built strong and lasting relationships with Australia's leading developers and become a natural extension of their teams. While our clients have diverse projects ranging from 50 to 2,500 lots, they all want the same thing - an agency that will pull out all the stops to deliver exceptional results.
Next >>
Navigating the Australian property market in 2023